Was in very scrappy mood last weekend. Partly due to the hot weather, as well as the Sudden downpour on both days that trapped me at home.
Done up two canvas frames for both my mummy and my mother-in-law as Mother's Day present. Hope they'll like the frames.
Here's the first one for my mummy. Canvas is from Art Friend that I bought about a month plus ago. I like the bird transfer and pink bird cage on the top left side. I also like the flowers and butterflies layerings. All is perfect… just feel hmmmm the photo abit small? Maybe next time I'll change to a 5R picture.
Close up of the layering details
And here's the one for my mother-in-law. Lots of flowers and glitters. The canvas frame is from Daiso, lots of yummy $2 crafty stuffs lately. Remember to go check it out! I'm running out of canvas, shall go Daiso shopping soon and stock up on these canvas frames.
Here's the last piece of scrappy work for Sunday night. I have an impromptu thought to scrap on my new sewing machine. So took it out, posed it for a decent photo, print it and I'm on my way to scrap it! Sewed my first layout, handmade a rose from spare cloths and did some cute decorations on those sewing chipboards from Maya Road. I like the outcome of the layout. So cute :D its fun sewing layout! Oh by the way, I've forgotten where I've seen some people scrapped about their sewing machine. Visited too many blogs, can't recall.. Just want to mention I saw somebody did a layout on sewing on papers. So here I go, my take on my new sewing machine :)
The flower and the Maya Road chipboard furnished up.
Went for Andrea Bocelli concert at Botanic Garden last Saturday with my old time pal. Had a great picnic and totally enjoyed the concert even though we only get to see the live telecast as we were allocated the Palm Valley tickets (courtesy of Ton – he's the lucky one who got the ballot tickets!) The event ended with blasts of fireworks, which we didn't managed to see, all blocked by trees. Only caught some glimpse of the TALL fireworks.
Sight of the picnic area. Very colorful 'human & mats'…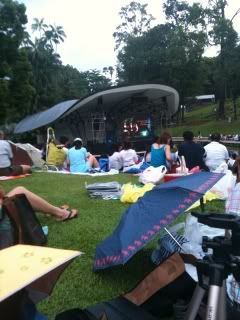 Have a nice mid week Wednesday!