Before I start yarking, I need to warn you people that this blog entry is going to be very long winded and overly loaded with backdated pictures. Oh ya, did I mentioned I permed my hair? Here's how my permed hair looked like in the 1st week.
That's two photos of me at 29 year old, on 28th April 2010. Took a day of annual leave and enjoyed myself thoroughly. A simple day, precious time spent with my loved ones.
Picture of me going down the escalator, taken by hubby.
I bought the hat. Its reversible!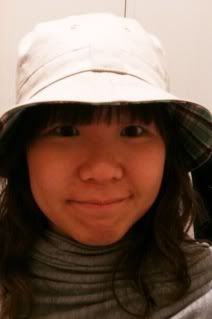 Met mummy and sis to go ICA collect our passports. The admin lady is sweet. Wished me Happy Birthday after I say "Thank you, have a nice day." Trained down to Somerset and had our lunch at Paradise Inn. The food very yum yum I would say. Then went shopping. Then back home and bathed and off for CHICAGO musical at the Esplanade Theatre with hubby. His first time watching musical. Comment from him 'ok la, still can watch' after I ask him 'how? like or not?'
We had lunch at Paradise Inn.
Coffee ribs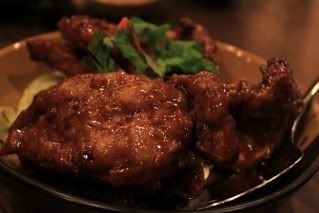 Braised pork with bun
Salted egg prawn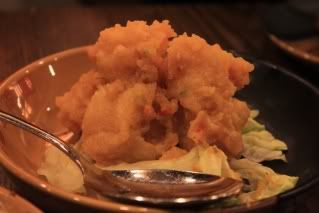 3 eggs with spinach
And last one, braised tou fu
Though no special celebrations nor cake, I just find it nice and feel the warmth when I received SMSes, facebook messages from friends. Thank you very much if you're one of them : )
Love the way the wild chrysanteum look, against the concrete wall. So I took this bokeh shot outside the house.
Scrapbooking wise… Completed my first commissioned album for my cousin. Glad she like it and hopefully her teacher like it too. Here's how two pages of the album look like.
The front cover and one of the inner pages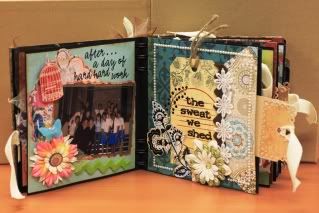 I made my own buttons with fabric scraps and blings. *heart* them alot…
Went for a photography outing with a few of my colleagues at Marina Barrage and Helix Bridge. Quite nice to be learning more about my camera and playing around with different settings. Hmmm WIND too strong up there at Barrage, most of the nightshots cannot make it. My colleague also complained. Haiz… BUT.. I do have happy encounters with my Heart and Star shapes. Took some Light Bokeh shots and I'm very pleased with them. Let the photos tell it all : )
Sideview of the bridge at Barrage.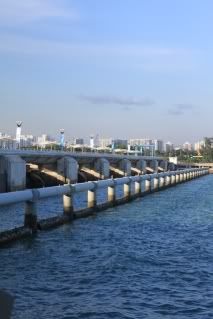 View of the antenna at upper deck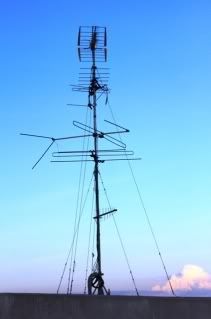 I like this shot I took on this metal structure.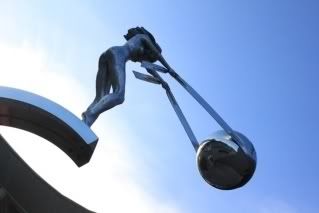 Greenary…
Sunset views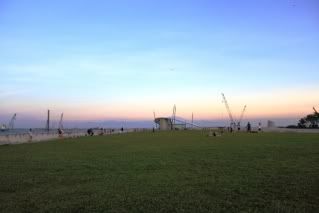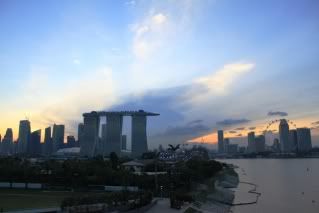 Night view. Didn't managed to get very fantastic nightshots that night. Wind too strong, most of the photos came out blurry even when we used tripod. Sad lor…
Two fountain shots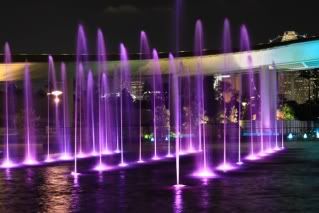 The star and heart light bokeh shots taken at Helix bridge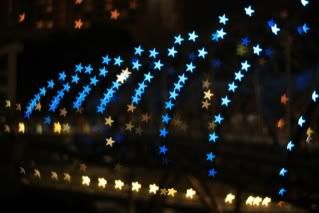 Going for Andrea Bocelli at Botanic Gardens this coming Saturday with my girlfriend. What a nice chance to be yarking alone with her for few hours. Shall plan for a picnic! Went Wisma to collect tickets yesterday before heading home. These two shots were taken on the way to town.
The Singapore Flyers
Inside Fort Canning Tunnel
Had a fabulous dinner at home yesterday. Belated birthday celebration for mummy and me. Look at the yummilicious food mummy whipped up! The shrimp paste wings, chilli tomato crab, crayfish, brocolli and grass jelly longan. *SLURP* LOOK AT THIS~
A boring week at work I think. And I think it's going to be 2 boring weeks with tons of work piling up. Boss not around leh. Sighhh…Buck up girl! Look forward to WEEKEND!
Hehe.. Til my next post folks.. I'm trying hard to be artsy craftsy. Bear with me for the time being…