We've marched into the month of September already! How fast is that? In less than a month, I'll be officially MRS CHAN after customary and I'll be staying with my hubby for lifetime :p
Have been missing in action for quite sometime. People have been asking me to update my bloggy :) so here I am, with a super long winded entry but mostly flooded with photos. Because to me, photos speak thousand words...
Let me see where shall I get started with... Ok my dear friend MF's birthday on 24 Aug. Met up with the other 2 guys and had post birthday dinner at Wine Company with her on 25th. Few hours of fun and laughter together makes me feel friends are indeed worth millons. Even though we seldom meet up nowadays, somehow the bond and chemisty between us are still there. Very amazing kind of relationship.
Btw photos are taken with my humble hp and MF's blackberry so pardon the resolution.
This is MF and me..
MF and her buddy..
Me and my buddy...
And here are the yum yum food... ALL my all time favourites, don't you love them too? Apple puree with cheese, sausage platter and chocolate lava brownie! Of cos we had our main courses, shared. Char kway tiao, salmon spaghetti, bacon spaghetti and fish&chip. Hehe simply loving poking our forks into each other's plates! Funny cos we're acting totally like kiddos that night.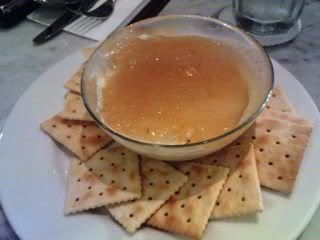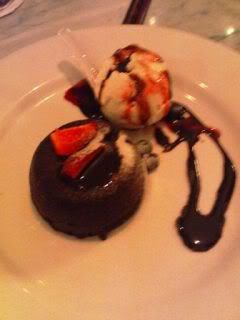 Next a more mellow and meaningful event for me. My office had a charity event at Gravehaven Home. We have 30+ colleagues going there to help them do up the library, draw hopscotch, play with the kids. I'm in the library team, decorate up the walls and help to arrange and tag the library books. Of cos we did chuck quite a fair bit away due to their condition. Everybody's tired after the afternoon's event. Missy me even had blue blacks on both my knees. I didn't even realise it til Saturday morning :)
I just took 2 snapshots using my hp. Here's the after done-up library wall and the hopscotch in the courtyard for the kiddos.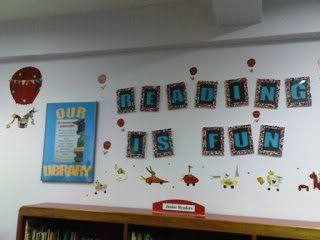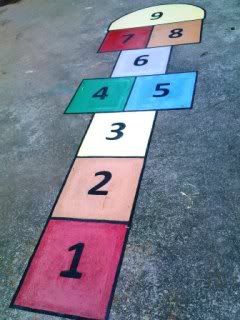 Went to the NATAS fair on Sunday. We booked our honeymoon! 8 days to Korea and Jeju. Won't be going immediately after customary. Instead we going in Jan 2010. Going for WINTER so we can go SKI!!! Yesh! Took 2 funny picture with Tweety and Sylvester. Hehe... So kiddish hor? :p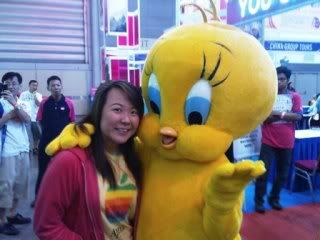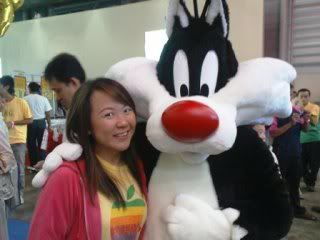 Sisters bought new tv console and sofa for our house. Here's a snapshot of our Ikea black console.
Daddy packed storeroom over the weekend. Found a TREASURE and sis say can give me if I want it. OF COS I WANT IT! I've been looking for one lor... Guess what? TYPEWRITER! Gosh and its in fantastic condition! Still have ink and I'll slowly go find ink ribbons for future replacement.
Earlier on this month I scrapped a mini album for my colleague. Simple one but full of my LOVE :)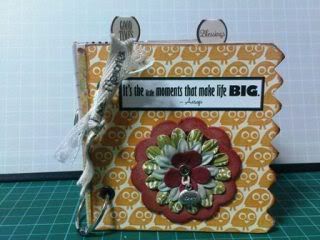 And lastly...I finally got my wooden drawer from Ikea last night! Colleague will help me fix it up! Yesh! La la la... Happy little girl :)