Mid of April comes real fast this year. It's Julie's birthday tomorrow. Wishing her a wonderful birthday, happiness befalls daily.
I'm all lost in time recently. Full day of work, alternate days of school and additional hours of muggings in office after work. Of cos, before my muggings I'll have 2 or 3 pool games with my colleagues, then I'll settle down at my seat with earphones plugged in and books all spread out.
Met up with my good, old time pals last Sunday for great dinner at Toa Payoh Mellben. Yummilious crabs! *slurp* definitely did trigger abit of the glutton desire in me now…Haha..Again let the photos do the talkings…
Like this with man tou to dip the sauce..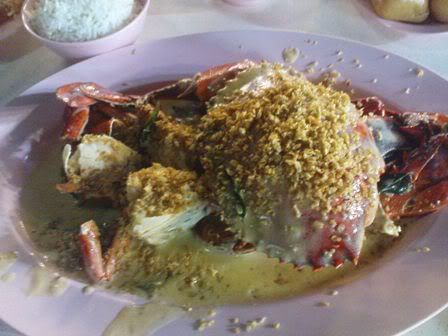 All time favourite crab bee hoon..
WT gave me and MQ each a rainbow bear. Gosh it's very cute. I'm like a little kiddo, can't leave my hands off it. It has got the most innocent pair of eyes at certain angles. Trust me…Look at this picture and you'll know why :p
This pose cute right? Innocent right?
Beanie saying HI….
I've been appearing in office in my nerdy specs quite a fair bit recently. Eyes too tired due to my late nights, can't take lens for long. Was feeling cranky on Monday, took this picture and mms to my dear hubby to cheer up his bluey Monday.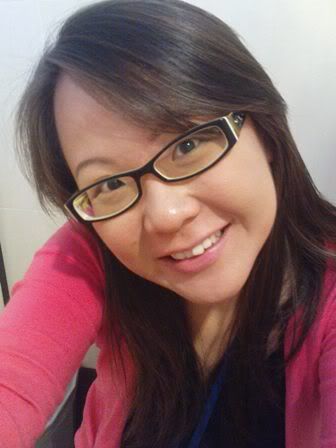 Received 2 parcels this week. 1 is from Purple Onions where a few of us shared the shipping cost and bought rubber stamps because of the Overstock Sale they had. The other parcel is from Deb, Maya Road. I'm one of the lucky 5 who won a RAK each from her bloggy. Trust me, she's real generous. I was so thrilled and excited when opening up the RAK. Reason? Because it's the first time ever I won a RAK. Sooooo…the excitement is undescrible! Hehe.. Missy Me is incorrigible ya? Little things can trigger me so easily. :p
The unopened parcel…
Parcel opened up and laid out nicely on floor…Many yum yumssss… *I can't wait for exam to be over and get my hands on these stuffs*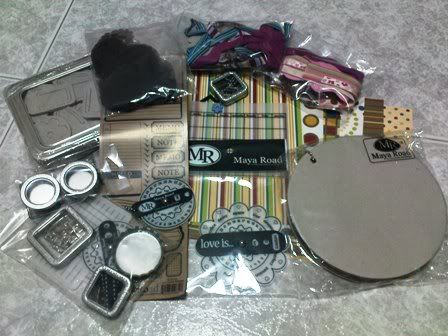 Ok getting back to work. I'll be on half day leave this afternoon, heading home to mug with my RUFFLES! Hehe..going get it from supermart later… QUIZ IS TOMORROW! After that, its EXAM next Saturday! After that, its lab submissions! Then after that, its FYP… And of cos… in between all these will be my wedding preparations. Sorry dar dar havn't got time to keep you accompany lately. Endure abit ya?  Good luck for your new responsibilities starting next week. I'm sure you'll enjoy the challenge given to you. You can do it! Gambatte!!!