Hmmm realise I have not updated my blog for so long le. Very very sorry for that. Guess this post should be a summary of my WHOLE Chinese New Year for this MOO MOO year with some photos to share. Didn't take much shots of myself lately except for some 'zi lian' shots taken with my handphone. BUT…still CAUTIOUS! This blog entry is going to be overwhelming with photos :p
Chinese New Year becoming more and more normal for me every year. Kind of like routine for me.
Eve
Cooking and more cooking! I scrapped a birthday card for my dear, good old time friend at night while watching the CNY countdown and this year I actually watch tv til 4+am!!! Wahahaha…
Here's the picture of my card…
First day
Wake up, nua around, help with some cooking and off to grandma house. Late afternoon go over to hubby's house then to his aunt's place.
Here are some photos of my cute niece
And me with Ting..
Second day
Wake up, nua around, help with some cooking and off to uncle's house. Late afternoon go over hubby's house prepare bbq for dinner. Picture of the yummy food on the second day by 3 major chefs (my mum and 2 aunts)
Yu Sheng at hubby's place…very big portion hor?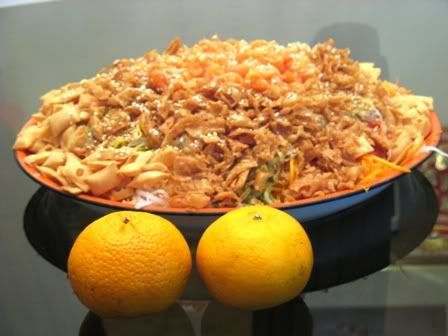 We having bbq session at night, ended up playing this…
SPARKLES!
Hubby with his sparkles
And that's me with my sparkles
Third day
Start work! Evening went for dinner with my buddies at Tapas Tree, Clarke Quay. Nice ambience but food wise..hmm I personally feel so so la… a few photos of FOOD here…
Ordered 3 Tapas ie side dishes
Ordered a hot plate of seafood rice
And sorry again cos type until now.. I can't recall what else did I do during these 15 days of CNY… hahaha so jumble up abit here and there la hor? Hehe..
Had CNY celebration at office and here are some photos..
The energetic lion at office's entrance
My boss and me – take 1
My boss and me – take 2
And that's me when lion peeling orange
And oh… I think I have not update that I finally got my REVO! Hehe after sooo long of procastination, I finally get my hands on Quickutz Revolution. Wohoo… now my monthly killer spendings will be on the dies I guess.. Anyone want sponsor me? Wahaha I'm very willing to accept whichever dies you buy or give me! :D But luckily for me, I don't fancy cutey dies. I prefer alpha dies, swirls, flourishes… Maybe those to me are more versatile for my scrapping. Currently I'm using some cute dies that one of my scrapping friend lent me. Quite cute I'll say cos I keep rolling STRAWBERRY, MUSHROOM and TREE! Hahaha…
My revo!!! Hehehe… *finally*
First cutout from the alpha dies
Here are some crafty and scrappy stuffs from me lately…Pardon the badly taken photos as they're all from my hp.
Worn this pair of earrings on 1st day of CNY… Done by ME…yes…yours truly made this pair of earrings herself!
Photo of my crazy hubby with that stupid flower..hehe find this photo nice, so develop and SCRAP!
Trying to do up my 1st sticky pad sample. Not bad huh? Anyway I gave it to my dear lao gong :D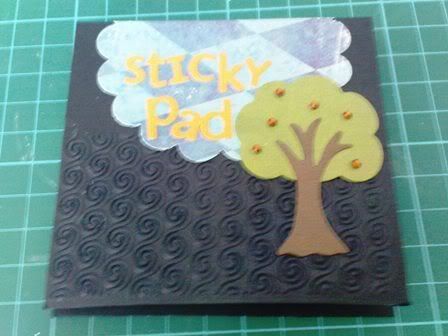 Lastly, a very CHINA layout from me using FFC papers and cutout fonts from my new toy – revo!