Finished up my last bowl of beef cup noodle from Taipei. Chris bought 4 for me and I shared 2 with my hubby. Anyone going Taipei? PLEASE remember….don't buy anything else for me, just this brand of cup noodle will do! Haha..
Have you changed your ezlink card? I didn't really purposely went down to queue, to change my card but rather, seeing the queue is rather short the other day, I just simply get done with it. Added my name with sticker alpha to personalise it a little. Not too bad huh? :p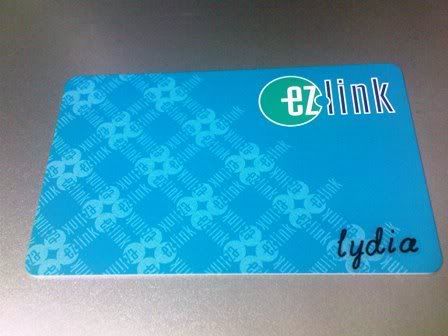 Hmmm a BIG PONDERING LOOK from me… Because? Because I'm freaking, ultra bored at work now. Somebody hijacked my remote and test station and I simply got NOTHING TO DO but to blog…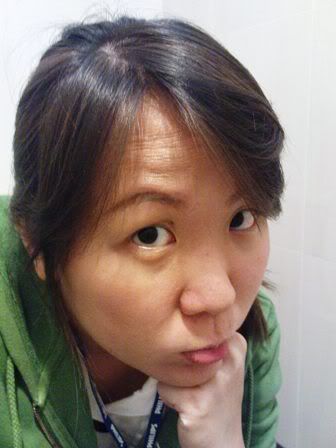 Downloaded photos from my handphone of the 2 recent layouts I've done. Finally something's cooking ya? Actually I've been cooking on and off la, on my ROM guestbook. Just that haven't finish, so cant post yet. I will rush work and target to finish by tonight! Then I can bring over to my grandma place on Monday to share my joy with my uncles and aunties.
Layout 1 – me with my dearest girlfriends from SP EC Club during J's wedding night. Am really glad to know them and although schedules are so packed for us to meetup, we still manage to squeeze out time every now and then for dinner and do some catching up.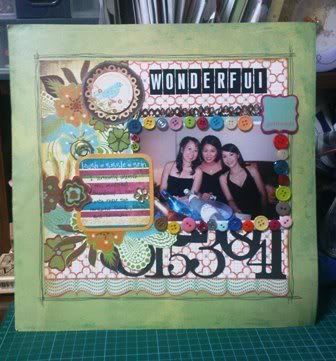 Layout 2 – OUR dad as OUR witnesses during OUR solemnisation. Can't really recall where I see a layout similar but I definitely scraplift from somewhere :p
The inner page after I flip it up
Lastly, in case I don't log on during this festive season, I wish all of you who frequent my blog a very HAPPY NIU YEAR! Wish you good health, great wealth and prosperity throughout the whole Golden Bull Year. :)