A very merry Boxing Day to all! I think by now most of us already opened up our presents? Hope you all have fun this wonderful season with your loved ones. I certainly do cos I spent my eve with a group of wonderful friends. Let the picture do the talking then :)
I spent my half day busy with buying and collecting and preparing food for the steamboat on Christmas Eve. Hubby and me reach A and L's house approx 8pm and tar dar…. We're greeted by this big sock hanging right on the wooden door. Christmasy feel with the amber lightings and the Christmas tree with numerous presents underneath.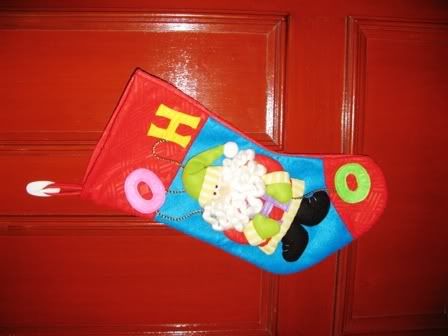 We started off our BIG FEAST at this hour of the night…read on to see what time we ended… :D
See how round my hubby grown these 2 months. Too much of food for us, time to slow down manz…
I ordered baked ham, quichie and chocolate fudge cake from TP2 canteen. Don't this cake look fabulous? In fact ITS YUMMY!!! I love the powerful chocolate taste of it lor.
Yummy? These are appetizers…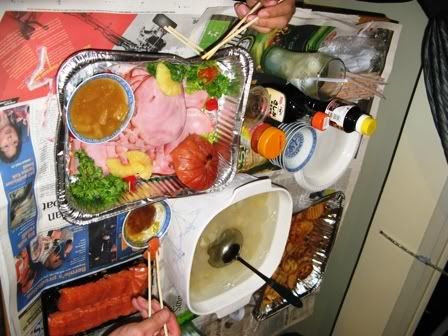 More yummy over here…
Here we go getting started with the steamboat after those appetizers…
Penalty for people who lost or threw away the gift exchange number tags. We said to keep the tags and paste on the presents on actual gift exchange day but those guys forgotten about it.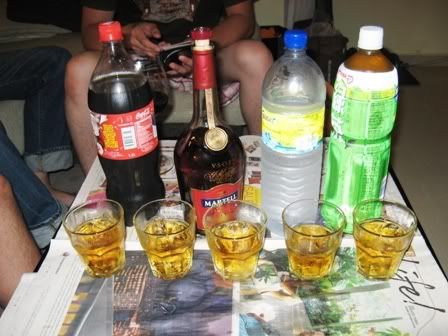 Cheers for the penalty!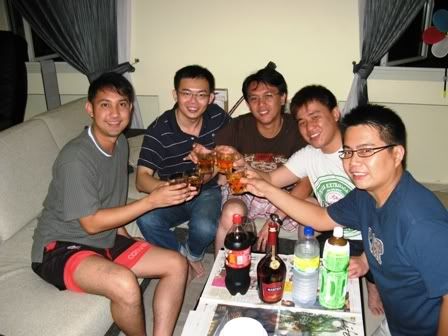 We officially ended the steamboat at this hour with quite some food still untact. Too much prepared I guess.
People who were present on Christmas Eve.
We are supposed to take funny shot with our gift exchange number. YET! Pls take a close look at somebody who is supposed to pose 4 yet with a 5… arghhhh YES YOU…YOU SPOIL THIS CUTE PHOTO!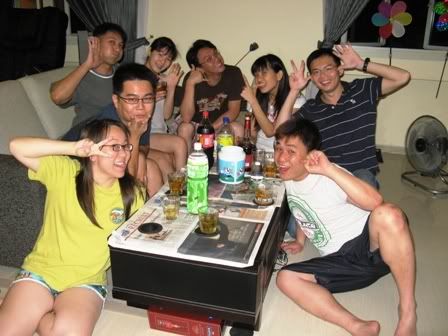 Funny shot over…and we wanted a cool ANGRY shot. Haha…quite nicely taken but oh man…check out my black eyes…waahaha…very horrigible hor? That's Miss Lydia Kwek without any makeup, concealer.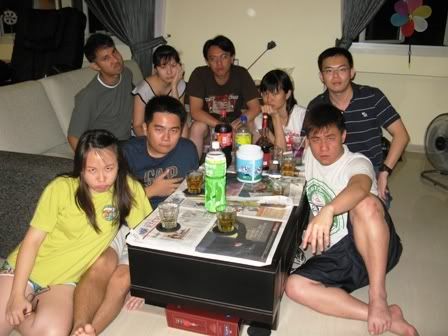 My presents this year. Alice Crocs from Miss No. 1 and another Crocs slippers from my hubby! Yippee! The jacket is a wrong gift. Again Mr No. 4 made mistake. He's supposed to buy for No. 3, who is btw my hubby but he remembered wrongly, bought for me instead. Poor hubby is short of 1 present.
My hubby with his presents. Majority contributed by ME! I bought him 5 gifts. Don't ask me why. I just feel like buying things for him BUT.. :( he complain I spend money. *sad*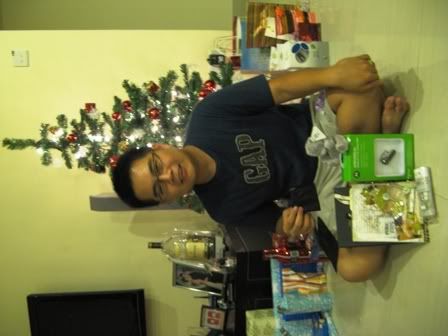 That's me with my presents.
And that's US with our presents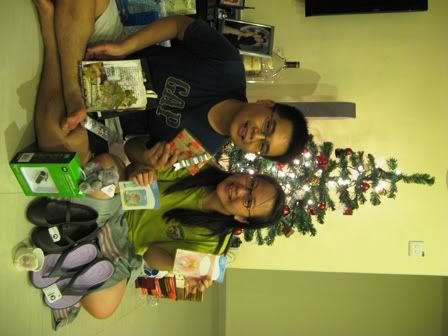 I'm damn tired that day. Dozed off quite early on the sofa. Don't know who took this picture but I quite like it. Deep sleep huh? :p