Hello people. Sorry that I've gone missing for so long. Been busy with my project. Finally rushed through and submitted my report last Friday. Nightmare is half over. Because? Because there are still others to do. Website to upload by 8th Aug. Presentation slides ready by 13th Aug, mock presentation on 15th Aug. And of cos to wait for the final presentation on Don't Know When! Many things lining up for me… *tired*
My dear bf is back from US already. My scrapbook stuffs are also all back from US. Coach stuffs also back. Wohoo my expenditure is HIGH! Haha… havn't had time to take photo of my loots and I've already packed them nicely up in my garbage dumping ground. Why I say so? Because my whole studyroom is now in a big mess. Seriously need to find time to pack and sort out things, lelong stuffs I don't need. Maybe that might help? Let's see when I have the time to do so.
Yummy colors of Adidas watches? Bf bought them from US. Damn freaking cheap lor.. 9.90usd for 1!!!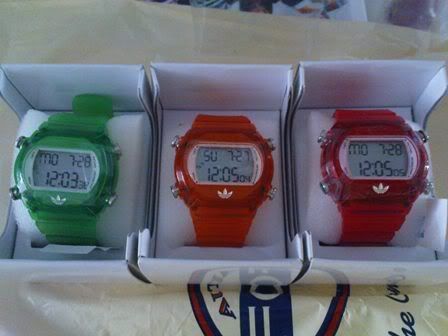 Was packing up my papers last week and I realised I have 2 unfinished mini album. I shall slowly complete them when time permits. Meanwhile, please bear with me for my no-MOJO, no-TIME down period. I shall be back with more stuffs when I have time for more scrapping.
This is the grab bag from Purple Onions. Nice right? PLENTY OF STAMPS TO PLAY WITH! Wohooo...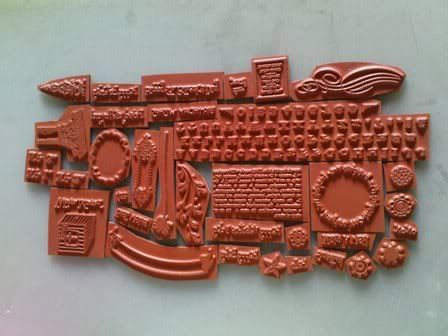 Did a layout on Monday night though. Here it is. Photos are taken last Saturday at Vivocity Marche. Hehe my 1st day out park-tor with my bf after he came back from US. So nice to have him beside me again, have meals with me. :p Ok just a silly girl sharing her joy *giggling* Have a few more photos printed, ready for another layout. But need to wait, because no MOJO. I had a hard time finishing this piece and YES….its not very nice cos 1 month never scrap already. Seriously need some time to recap how to scrap. Does this occur to most scrappers who stopped scrapping for some reasons for some time?
Us after hearty meal at Marche. Going scrap a LO on this..BUT pending for MOJO.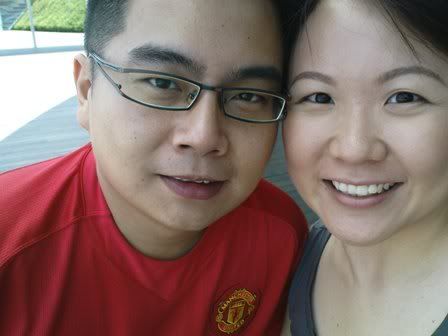 Read about Straits Times interviewing scrappers in TSL forum. Went home last night and dug out Sunday's papers. Wow! It's a whole page article but on people I never met before. Still, some random thoughts ran down my brain. Isn't it nice to have hubby to share the same hobby as you? That is…to have a scrapper as hubby! COOL! Envy. I wonder if my bf can ever be a scrapper. Maybe when we live together, he can try to use my stash to create something. I THINK he'll enjoy the process. Practise makes perfect. HOR? AGREE? Hehe…
This is the container I bought from Ikea. I used that to store all my pattern papers and cardstocks. Errr I have alot I know and this excludes SOMO kits.. :X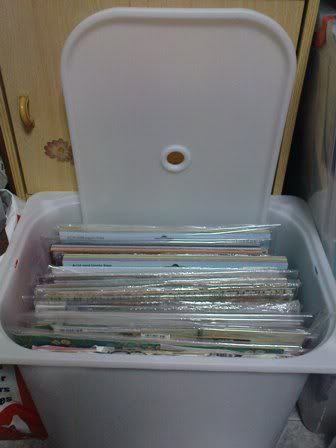 This is how I store my mini clear stamps and some other clear stamps.