Post edited at 11.19pm :)
Just to edit this post to add in 2 more LO I done up today. In ultra crafting and scrapping mood today. Don't ask me why. I think because I've let my proj off for whole week, feeling stressfree bah :p
Hehe...Pls be mindfully prepared that this post is going to be flooded with pictures of yummy delicious food I had on Fri and Sat.
I shall start off with a little lighter part of the post. That's on my scrapping. Done up a LO on my 3 cousins. I managed to dig out a 4 yrs old photo and start scrapping on it cos I realised I've never scrapped anything on the little boy before. :p
Now comes the interesting part...
Bf and me went down to Amara to confirm our ROM package. Well initially abit kind of irritated cos our coordinator actually let us wait for almost 40min! Amazing right? Well in my opinion, at least you should let your client know you'll be late and not ask client to wait at the lobby like idiots, call her twice somemore. But things turned out well la, can tell she might have kanna buah butter before she came down, so she's forgiven by us. Being apologetic, she signed the bill and we had our dinner at the cafe there. Interesting food I tell you. WHICH I don't think I'll pay for a $14.90 laksa, and a $12.90 beef hoo fun if I were to go there myself. But they really taste fantastic. See the picture and you'll know why.
Laksa ->
Beef hoo fun ->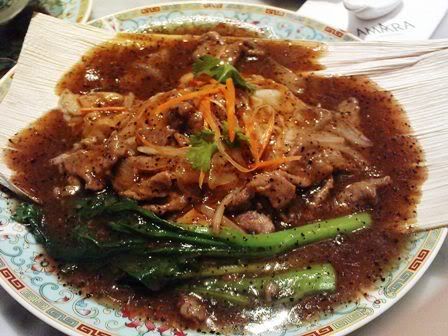 That's my Friday's dinner. Want know my Sat's feast? Wahahaha... I met up with my old pals together with my bf at Holland V - Tapas Wine Bistro for dinner. Its soooo yummy! Aaa don't ask me the names of all the food we had cos I simply can't remember but I'll put a footnote on what they are. Oh..and we shared all the food cos we believe in eating more variety to try out different dishes. Hehe.. Here you go!
The red wine we had... Nice..don't have the bittery, 'siab siab' aftertaste..
The mushroom soup...See the side..with MUSHROOMS as garnish. YUM~
These are all the APPETISERS we had.
The smoked tuna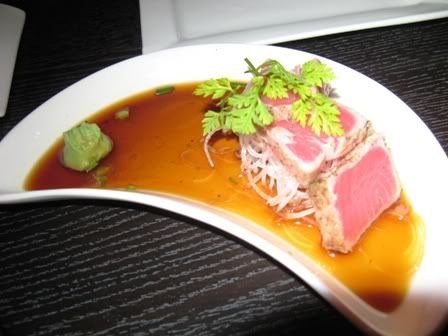 Seafood salad with nice vinegar taste and smoked salmon
Beef cubes with hmmmm herbs taste?
Meatball with squid and pork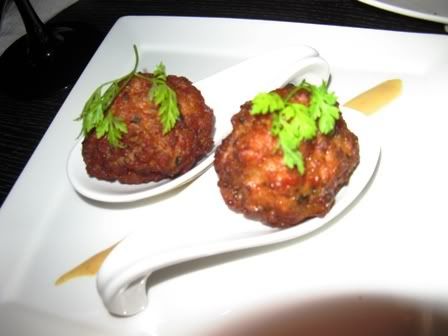 Fried mussels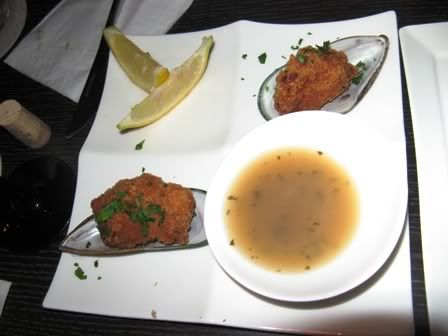 Spanish rice..I find this abit salty..not really to my liking
The 2 other MAIN COURSES.
Dory fish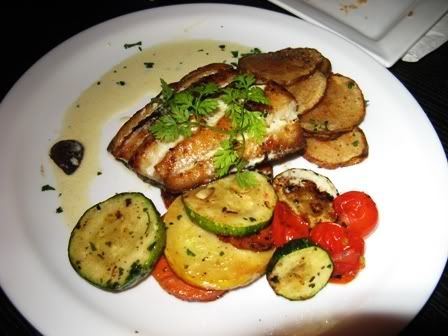 Ribeye
Now is HUMAN PHOTOTIME!
4 of us at Tapas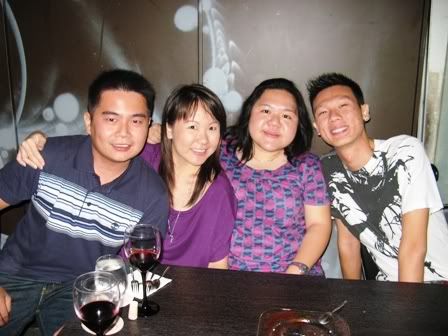 The 3 clowns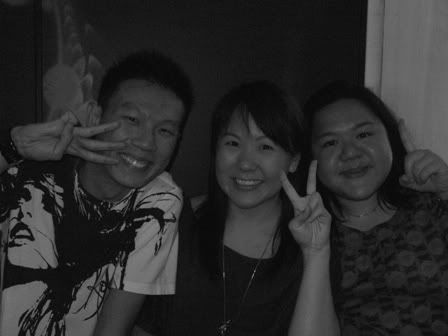 Me and my bf
I had a great Sat night out pigging with my buddies. Going to plan for next pigging session. Wonder what yummy should we eat this time :D