Haha people must be thinking this girl is crazy, so longing for Monday to come. Of cos la...cos my dear bf is finally coming back from US. His 3rd trip to US though still don't make me suffer alot from Xiang Si Bing. But still at times will make me feel lost without him beside me. *bleah* ok just some random thoughts passing by that I do need him to comfort me at times :p
Havn't had time to download the photo on the shadow box I scrapped for Werner last week as his farewell present. Here you go. A simple one cos its my 1st attempt on shadow box.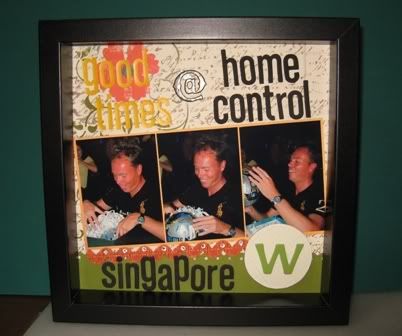 After much persuasion and nagging from my sisters, I finally leave my house in evening today with them to Ikea. My second sis wanted to get some shelves for her new wardrobe. We bought quite alot of stuffs but didn't carry any back cos we opted for delivery. 1 set of dining table for kitchen, 2 shelves, 4 metal trousers hangers, 4 shadow boxes and 1 container. Out of all, 2 hangers, 4 shadow boxes and 1 container belong to me! Hahaha.. All to be used. Don't ask me for what purpose cos the answer is obvious... :p
Oh ya. In case my dear bf read this blog while waiting for his plane. Don't worry. I doing my report, never slack. I also shopped and brainstormed about my house renovation cos my WHOLE HOUSE is in a mess now. Don't get a shock if you're sending me back home on Monday night cos my WHOLE HOUSE is really messy now. I mean WHOLE...really is WHOLE...wahahaha!