Realised that I have not update for a long time. So guess this post is going to be longggg, but with many photos :p
Have not been scrapping for long time. Busy with work, weekends schedule and FYP. This LO is done up few weeks ago I guess :p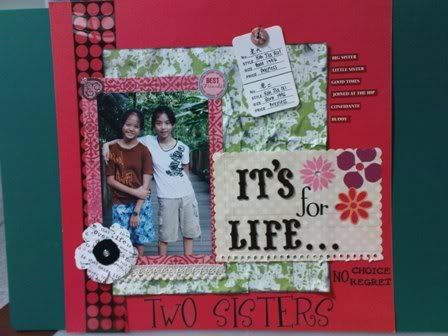 Went Genting with my colleagues last weekend. Go casino? No no...I don't gamble de. I went down KL with J on Saturday morning. For what? SHOPPING! Haha...
Here are some pictures to show.
A particular street in KL that have many wholesale shops.
We went this particular store to shop for shoes. See the red shoe?
Look at this yummy food we had at Sungei Wang. The Sichuan spicy and sour soup is HAPPENING! I simply love it.
We went Puduraya to take bus back to Genting subway station.
J and me in cable car going back Genting after our shopping spree
J's loots
My loots
Very long never show off my next hobby. Here are 2 pictures of bracelet and earrings.