Both J and W are my poly club friends. Looking back I've known them for 10 long years! Very long ya? They had been an item since 1999! A whooping 9 years of relationship. They had their ROM at Park Royal 11 March 2007. They had their customary 1 year later on 6 July 2008. I was one of the Jie Meis last Sunday. Didn't take many photos. Shall wait for her PG to pass her the softcopy then I can choose some memorable ones to keep. Here are some photos taken during the dinner at Novotel Clarke Quay.
Classic 1998/1999 batch photo with the couple
Me and my buddy before his gf came. Oh, can you imagine he can introduce his own gf wrongly? She's HR...and yet he introduce her as HL (that's my name!!!) I guess I'm pretty much top in her blacklist lor. Duhz...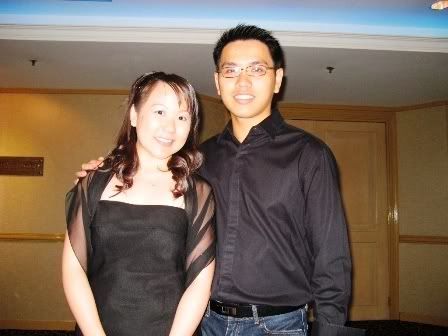 3 of us at the bridal suite before dinner. J's makeup artist sprayed sparkles on our hair even though its not done up by her. We went to a neighbourhood hair salon to do some simple setting. Cheap though :p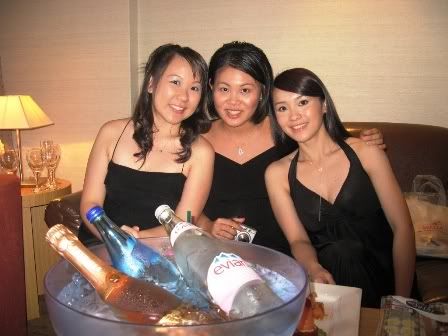 4 of us