Yippee! Just 1 more week! 1 more week and he's back!!! Yippee! Hmmm how nice to have somebody back to hold my hands :p
Had CTQ training today for half day. Went back office in afternoon and work half day. Went off on dot, back home for dinner, ate yogurt with fresh strawberry! YUMMY!
Was at Sentosa last Friday for my GM's farewell party at Ami's restuarant. The view is fantastic, facing Song of the Sea directly. Wohoo! Can you imagine the direct view from the restuarant itself. Awesome to be viewing the wonderful laser, fire, fountain displays TWICE an evening :p FREE somemore wor... wahahhaa... But one cons is that I don't really fancy the food. Actually I wasn't even full when I stop eating. Not nice la... Ops :X
Just a snapshot of the restuarant before its fully packed.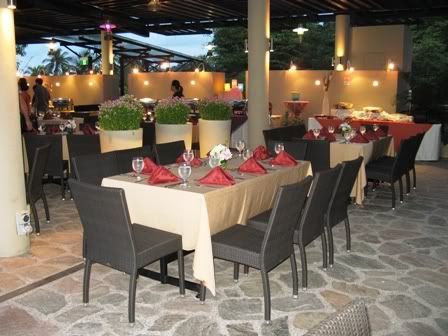 Nice view for Song of the Sea right? Its Sentosa's musical fountain right outside Ami's restuarant.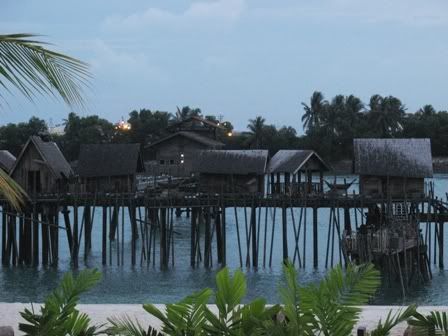 A random shot of the antique lamp hanging from the roof
Our GM, Mr Werner and some of us ladies. He's going back Amsterdam to pursue a higher level of his career. All the best to this wonderful boss whom I really enjoyed working with. Imagine a boss with no airs, a boss who will talk to you like a friend, who can even go clubbing with you! I really like this kind of GM. Too bad he's leaving. But still, the new boss is just as good I'll presume cos Miguel is another interesting boss whom can talk to me as casually as Werner does.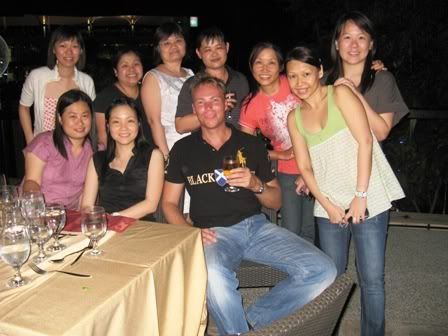 Something to share about my dinner on Sunday. Mummy helped me cook the white rice while I handle the rest. Ok I know I'm lousy. I really have no idea how to cook white rice! Haha don't ask me why. Its still the same with my boyfriend. He'll cook the white rice, I'll cook the dishes. Hehe...
Ok this shot is something on FAILED SUSHI! Look horrigible right? Its not easy to make this kind of shape... That's why I resort to making Maki instead..
Don't this plate look nicer? Wohoo my 2 sisters and me ate 300g of rice! Can you imagine how full is that? Ingredients: rice, seaweed, japanese cucumber, omelette, crabstick, saba fish and unagi.