So fast its Friday once again. Actually feeling quite guilty that I've been MIA-ing lately in my bloggy. So sorry.
Going Excelsior Hotel for Korean steamboat with my girlfriends tonight. J organised this dinner to introduce the sisters gang for her wedding in July. This shall be the 2nd wedding among 4 of us. 1 more coming up in Nov.
Going over to Batam for stocktake this weekend and this shall earn me 1.5days of annual leave. Going to buy back donuts for my darlings and sisters. Hehe..too bad my dear bf not in Sgp. You missed it.
Done up a LO few days ago. Not much of MOJO lately. Maybe because my brain is too occupied with my FYP :p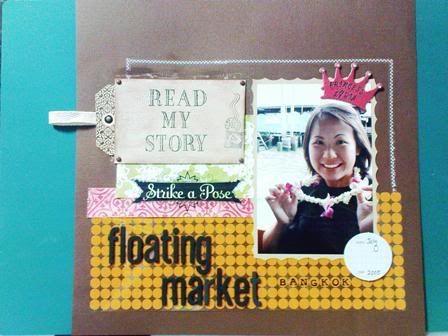 I've actually done up some bits and pieces of mini projects, but not fully done up yet. Once ALL are ready, I'll take pictures and post. Be patient please...time is running too fast for me lately. Going die at this rate. Heart attack coming! Haha...
Ok. Today's going to have short post. I going rest my brain for this lunch. :) Have a nice weekend folks.
Posted a lelong thread in TSL to sell off some of my metal charms. Still clearing, so might have more to come :p