Today is Vesak Day in Singapore. Had an additional day off for me :p Went to the chinese temple with mum and eldest sister at Clementi Ave 6. Seeing is believing...definitely still tons of believers in Buddhisim. Look at the pictures, sooo many people lor and I was sweating like mad! We went queueing, walk in rounds with the joss-stick in hand to pray in front of the Buddha inside the main hall. Walked out and went the other side to queue again to 'bathe' the Buddha statue which they call 'Yu Fo' (in the picture also). Then finally took the curry vege with bee hoon and eat it under the big tentage. Everyt year this temple will have free food as a form of 'giving' to believers who came for prayers.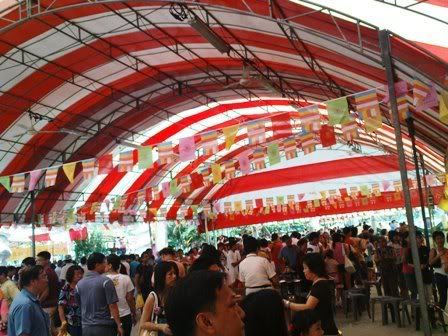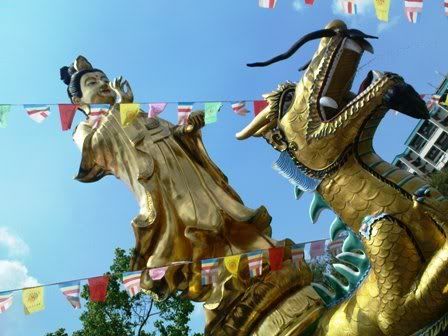 Went to IMM after temple visit. Oh I was so amused by this sight that I definitely have to take a picture :p Look at this! It's miniature watermelon lor..the same size as my hand wor. Hehe..my dear bf..pls judge how big is this watermelon from your imagination...
Bought some clothes today and I need to show it here for my dear bf again..because? BECAUSE I SPEND $...haha...but don't worry, this time is under mummy's permission. She say 'some of your clothes can clear out le la, some old le, very obvious color fade liao leh' So that explains why I buy clothes k? :D Bought a green cardigan(brandless), a white lacy sphagetti (BYSI), a green racer back tee (Espirt) and another pink tee (Espirt).. Not bad hor? Adding more GREENS in my wardrobe. My cols will have more chances of looking at me and say 'today EARTH DAY?' :)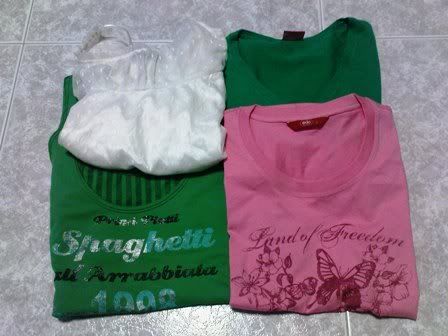 Hmmm my Sunday is pretty interesting too. Why? Because I spend my Sunday accompanying my mummy again. This time to NTUC for grocery shopping at 930am! Then back home close to noon time. Had some personal time with my project, my earring making, chit chat with my bf via skype then off to cut vege for dinner. POPIAH! Did I mention before that I ONLY LIKE POPIAH AT HOME? I never like eating popiah outside. Reason being very simple, because I love my mummy's popiah too much that I never like the taste of outside popiah :D
This is after my 1st bite! Hahaha!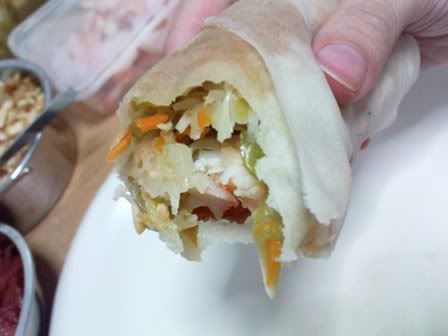 Here's some humble work from me..I love the 1st pair most! Although other pairs also ok la. Going sharex2 with my sisters and give a few away bah? See how lor. Amateur being so happy with her works :p