He's gone...to Alabama. 4th May 2008, sent off my beloved boyfriend at Changi Airport Terminal 3 this afternoon. He took SQ38 to LA. Will be back on 28th July. Tata...check my bloggy often hor..I'll try to update often :)
Hmmm noticed I have not updated anything since 27th April. Sorry folks. Busy with my bf :D Anyway I think this post will set most of you thinking and wondering why am I always showing photos of FOOD? Reason is very simple. Both my bf and me like to eat NICE food...soooo FEED ME WITH NICE FOOD! WAhahaha...
Oh..I almost forgotten to post this precious photo. Taken with Edna and Daniel together with my bf on their big day :) So happy that they've finally tied their knot.
Next shall be my update on my birthday on 28th April. Work as usual as I didn't take leave. Had lunch at Pizza Hut with my colleagues, they treated me to sumptuous lunch with lotsa laughters :p Meet up with my bf at Laines, then went over to Shaw Centre to The Ship Restaurant. See these photos and you'll know how much I enjoyed my candlelight dinner. Hehe..Abit silly but I do really enjoy some LOMANTIC moments with him but too bad he's not a LOMANTIC kind of guy. Haha..okok sometimes you are..OK?
That's me acting silly as usual..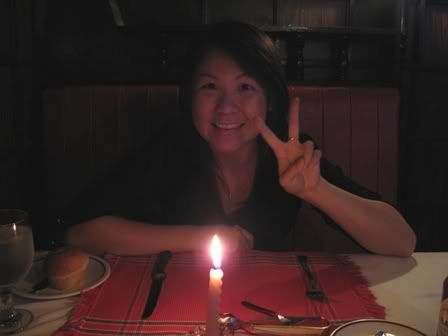 Can tell what's this? ESCARGOTS!!! YUMMY YUM YUM
That's my bf with his sizzling steak...IT'S ON FIRE!
Poser me with my dinner..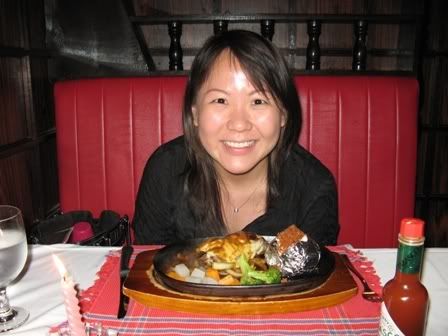 His greedy look?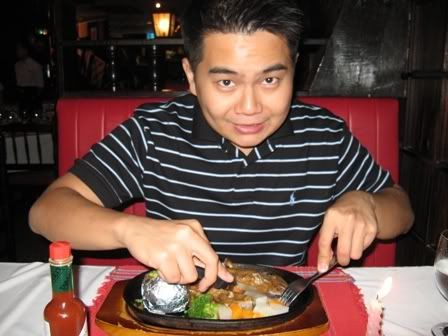 Photo of US taken by a waitress there..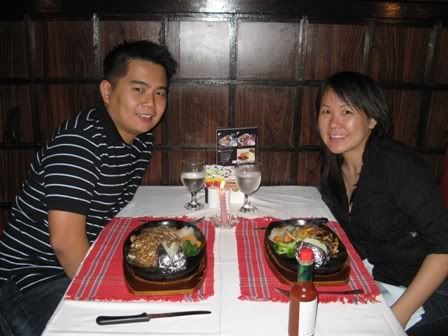 Ok..abit more on food...These 2 photos taken on Friday. Was on half day leave, accompany my bf, had lunch together, his birthday treat from me. His birthday on 15th May but he'll be away in Alabama by then, so pre-celebrated with him. Went Waraku at Starhub Centre. That's again FOOD, mind you :D
Went for our massage on Saturday. Walked all the way to One Fullerton, thinking to have dinner at Black Angus, not knowing closed down already. That's us along the bridge from One Fullerton to Esplanade.
Ended up at Esplanade for dinner at Thai Express instead :)
Ok, see what I mean by using handphone camera to do illegal things? Don't know legal or not to take photo in a shop. Wanted my bf to try to find this Fossil leather bag in US. Hehe..I like this size, can squeeze in my waterbottle, passport, wallet etc when out travelling. Hehe..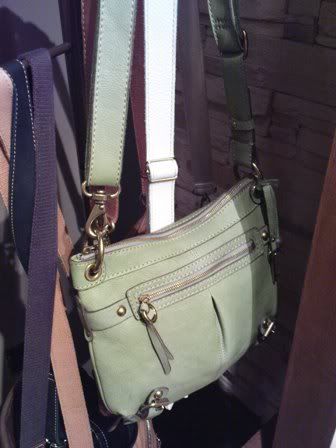 Ok ok I think I stopping here. Long post. Too long winded. Good night folks, I'll try to scrap more and at the same time do up my FYP.