So fast, one week past just like that. For me, this whole week is work, project, scrapbook, eat and sleep. Haha typical of me. Just a slight difference. I have not been eating good food lately. Time for a change....to Normal food. :)
Almost forgotten to blog about Laines' crop class that I joined on 29th April. Basically to make door hanger. The goodie bag is fantastic and I finally took a shot of it. Quite worth it. Had fun chatting with fellow scrappers, play games and enjoy special discount storewide! Good! I'll love to join more of such crop next time. :)
This is made by ME! Yesh! Rose from polymer clay. Not bad huh? This is my 1st piece of rose lor. I'll make more when I'm free then bake it somewhere (definitely not my home cos my mum will kill me if I ever use her cooking oven!)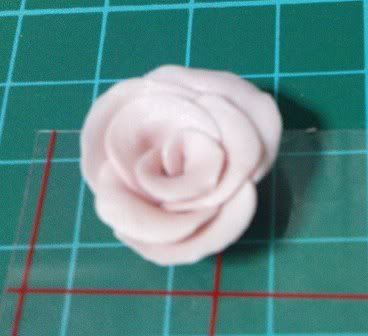 Oh..don't know why also recently my workbench is damn messy at work lor. I couldn't resist and just took a snapshot this afternoon. Simply like pig sty! I need to start clearing soon. IA student is coming on Monday and yet everything is in a big mess. Haiz...
Today is Friday. My office will have weekly fruit sale. Today yours truly bought quite a fair bit of fruits. Bought rambutans, mangosteen, rose apple and HALF A BOX OF STRAWBERRY. Must be wondering why half right? Because they sold off ALL their strawberry le. Uncle see me pathetic, sold me his half box for $1.50. Not bad deal wor. Have about 10 pieces inside and that box of strawberry, all very sweet. Yum~ Suddenly recall not many people will know what's mangosteen. Its those in the picture below. Supposingly to be a kind of 'cooling' fruits. Durian is heaty. They saying eat mangosteen to reduce heatyness. Don't know how true.
Ok. Today is Fri and I finally feel tired! Going sleep soon le. Time to chat with my bf tomorrow via Skype! FINALLY! Hehe..Til next time...