Haha...Yesh! Managed to finally changed the template of my blog. New look for Rat year? Hehe sounds so lame lor...
Hmmm nothing much going on for me lately. Chinese New Year officially over last night after the reunion dinner at home. Oh ya! I have not opened up my red packets yet. Will do so tonight and USE THE MONEY! Haha..See my red packets...
Have not been scrapping..*guilty* BUT! I'm halfway through my 7g matchbox.. *FINALLY GOT STARTED*...Doing up a HOME MATCHBOX. I thinking of making for myself now instead of giving to my friend. Hmmm let me think through further..
Scrapped these 2 LOs sometime last week. Hmmm notice I don't have the habit of writing the date when I scrapped that LO. Should get the habit starting. Else next time I won't know when did I scrapped all those LOs...
This one is from SOMO Jan/Feb kit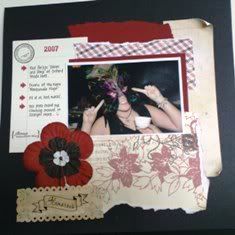 This one is more of mixtures of scraps as well as SOMO kits..
Progressing pretty on track for my final year project..Makes me feel at ease though. Hope this goes on...
K la..I'll update again. Time for me to go back to my testing.. I'M AT WORK NOW! Gheesee... Ciaozzz