Hehe..I finally start scrapping after think 2 weeks? Done up 4 horrigible christmas cards. Wonder what's wrong with me, can't seems to scrap well with a theme in mind.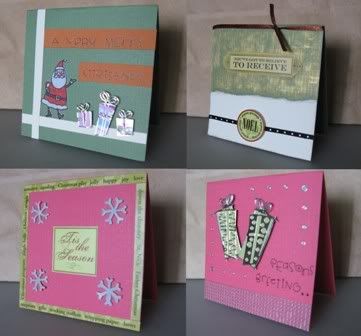 After doing the 4 horrigible cards, I move on to do a door hanger for my friend. NICE? I like it...so floral...so HUA CHI!!! Haha..Initially when I buy the flower door hanger, I want to scrap it for my cousins. But somehow, I feel I want make another pressie for my long time pal, so I went ahead and dig out this door hanger and scrapped it. Pretty pleased with the outcome. Going meet MQ and W tomorrow. Going Furama Riverfront for lunch buffet. Yum~ I'll charge my camera and bring it tomorrow. Oh ya, going bring also the new toy -> tripod! :p
Went for dinner yesterday with bf's parents and his da shao at TPY Sakae. Yum~ Terrible thing is...I went Novena for 2nd round of dinner...But don't worry, I only drink Tom Yum soup la. KC, J and I went ahead to Bali Thai 1st, I joined them after my 1st round at Sakae..hehe...BAO SI WO LE...To KC: Life is cruel at times. But think of the wonderful people around you to support you. Be BRAVE. Bite on and move on in life. I believe you can do it de! *HUGS*
Lastly...to I: I want my cookie monster photo! haha...