Guess what I'll post about today? Finally about my China trip back in April from the 20th all the way to 2nd May with my family.
Defintely not a good holidays. Not because the group is not nice, not because the scenary is lousy. Its just plainly DYNASTY TRAVEL SUCKS BIG TIME! Yet til now they refused to refund me 1 full day of my tour package. Can you imagine having to miss your intended itinerary but sit in the coach for 7 hours to reach another destination BUT...still ended up waiting for almost 3 hours walking around in strange and lousy shopping district, topped with waiting in KFC. All because? Because the dear tour guide wanted to earn extra pocket money when my family, we refuse to go. Spoilt my whole holiday mood... haiz..
Nevertheless, I still have some pleasant memories of the trip. Here are some photos to share
My handsome daddy candidly posed for me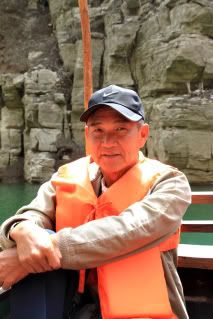 My cute mummy asked me to take a pic of her practising taiji
The three sisters on the Yangtze cruise where we passed the dams
My hubby with his undersized straw hat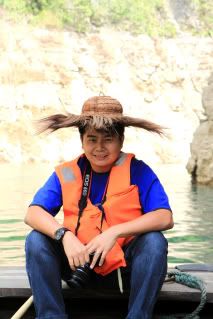 Me looking so orangie with that yellow tee and orange vest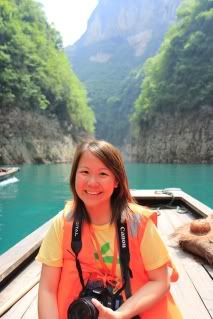 Me again taking BIG steps on the not so big stones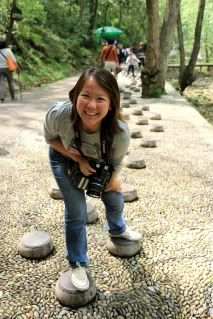 Me taking pictures of mini stones in stream while hubby snapped this shot of me
Check out these 2 kiddos I met during the trip. Ain't kids' expressions just so natural?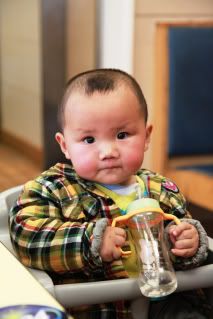 This is what impressed me the most during the Yangtze cruise. The handpainted glass art. How fine are the works...
Mummy and my birthday cake given to us during the gala dinner. There are daily birthday celebrations on board.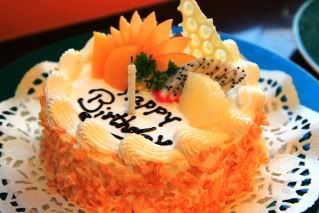 My shy mummy and 30 year old me :)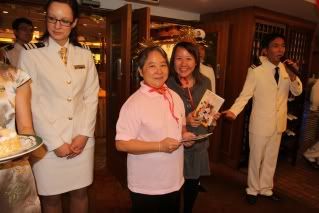 Lastly... say CHEESE... picture of me and my silly hubby with his spastic eye mask